Hello lovelies!

How have you been? Did you have a nice weekend?
This has been a while in coming, so it's high time I told you about our long weekend away in Edinburgh! It. Was. Brilliant. We walked and walked, and stopped for cake, and walked and walked some more. I took approximately 56,000 photos of stunning architecture, beautiful vistas, and everything we ate (the majority of my snaps, as we ate A LOT).
We booked flights with Easyjet from Southend's new "London" airport (what a fib! It's about 90 minutes outside London!) as they were at more reasonable times than the pre-dawn flights from Gatwick. Southend airport is also just down the road from my lovely In Laws (perhaps slightly too close... we waved out of the plane's window as we took off in case they were watching from their back garden), which meant we could spend the night before at their house feasting on one of my MIL's excellent dinners too.
We hadn't really planned much of an itinerary at all before we set off, which I realise doesn't really fit with my Organise It To Within An Inch Of Its Life mentality about, well, everything; but I genuinely enjoy getting a bit lost in new cities and just seeing what we discover. And I did have a quick look for the top touristy things to do to make sure we didn't miss anything too amazing; which is how I discovered the Edinburgh Tourist Pass.
Passes can be purchased for 1-3 days, with adult prices from £30pp, and include a return bus ticket to the airport which would cost £6 on its own. The passes can be used on a different date to the bus ticket too, so we bought two one-day passes upon arrival at the airport and then hopped on the bus into the city centre.
Our friend Tom, aka Mr Skulls and Ponies, had recently been waxing lyrical about Airbnb; an alternative choice for holiday accommodation that offers the opportunity to rent someone's flat/house (or just a room in their home) instead of staying in a hotel. We decided using Airbnb would give us the perfect home-from-home for the weekend, instead of ending up feeling trapped in our hotel room for the evening after returning exhausted from sightseeing. After spotting the photos of this amazing flat, we were sold.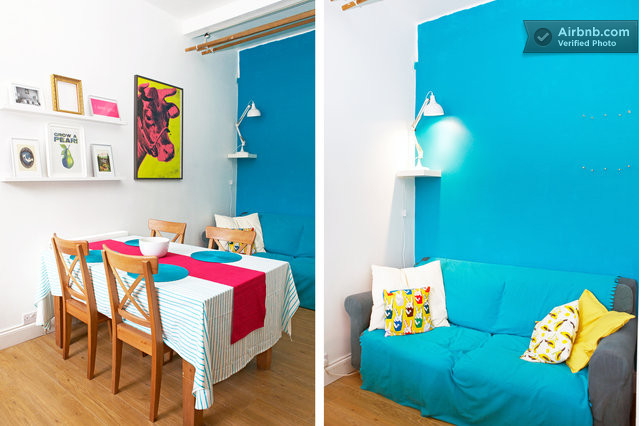 To be honest, it was the excellent collection of art that really sold this flat to me.
Our flight was slightly delayed getting in, so we were a little late in getting to the flat. Thankfully the lovely owner was completely understanding, and made sure we knew where all the important things were before leaving us alone for the weekend in her stunning flat.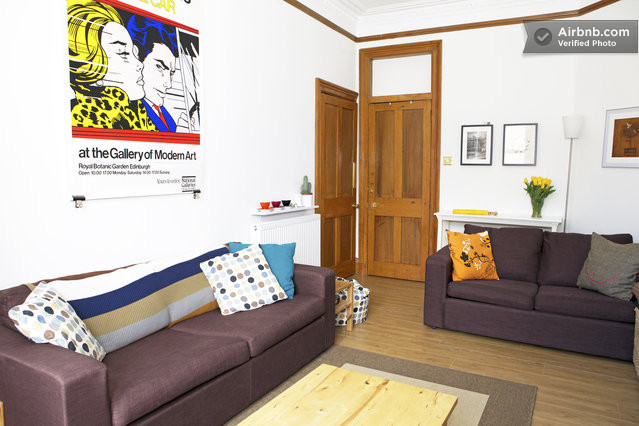 By the time we'd dumped our suitcase at the flat, and scarfed down a very tasty late lunch of burgers from Holyrood 9A, we decided to make the most of the early-evening sunshine and walked up to Arthur's Seat to see the lay of the land.
We were very impressed with ourselves for reaching the top in only half an hour- especially as we'd chosen the steepest route. And then we saw a guy RUNNING up the side of the mountain. Who was less out of breath than I was. Not only that, but on our way back down he passed us FOUR TIMES, having run over the summit each time too. I have no idea how any human being could possible become that fit. Although I have a sneaking suspicion the formula is something along the lines of more-exercise-less-cheesecake; so I'm certainly not interested in becoming the next Super Human running (wo)man.
The monument at the top of Arthur's Seat reads "All shoes go to heaven";
surprising apt as I did actually wear out my shoes whilst we were in Edinburgh!
After managing not to plummet down any rocky crags during our climb, I still only narrowly escaped our jaunt with my life due to a being mobbed by a flock of Evil Swans. I'd just stepped down onto a small gravel beach flanking the lake at the foot of Arthur's Seat, when a thuggish group of 5 swans suddenly rushed the beach and headed straight for me! I swear one of them had a tattooed beak and a wingduster.
One of the Evil Swans
All limbs thankfully still intact, on our way back to the flat we popped into Cornelius, an off-licence we'd been recommended to visit by the flat's owner, and bought a few bottles of local ales and ciders. Whilst trying to choose from the impressive selection, we deliberated aloud about dinner choices; as neither of us were hungry enough for a proper dinner thanks to the mega burgers. Then, as the sales girl was totting up our order, she asked us one of the best questions in the whole world. "Would you like some free sandwiches?".
Why is that even a QUESTION?! F
REE SANDWICHES(?!?!) And they were fresh from the bakery next door (which had just closed for the night) that we were planning to test out the next day for breakfast
.
Any holiday that starts off with fried cheese, brushes with feathery death, and FREE SANDWICHES is always going to be a winner isn't it?
Katie xxx