So, are you ready for the big reveal of the new project I mentioned on Monday?
After you were all so helpful with my dilemma of armchair vs. treehouse I decided to go for the sensible option and buy an armchair. I had every intention to spend my hard saved pennies on the beautiful Armchair of Dreams, but in the end I just couldn't do it. I mean, £450 is a LOT of money to spend on anything, but especially something that I'll probably ruin within two years thanks to my weirdly boney backside. I've already managed to single-arsedly DESTROY 80% of our massive sofa by plonking myself down then not moving for six hours. I blame back-to-back re-runs of Location, Location, Location.
I also woke up one morning and realised that, whilst I loved the Armchair of Dreams, what I really wanted was an armchair as bright as the sun. The grown-up blue-and-cream colour scheme was never really going to work for me, because it would've matched my tablelamp shade; thereby breaking my golden rule about nothing in our house being allowed to match. I figure that if something's worth doing, it's worth doing it in a combination of colours that makes your eyeballs bleed.
For a while, I was lusting after this lump of dandelion gorgeousness, but it still cost more money than I was really willing to spend. I searched all over the internet like an upholstery-obsessed Sherlock Holmes for other chairs of yellowy fabulousness, but couldn't find anything that looked comfortable and cost less than our house. Then I had a brainwave; I would simply buy any old chair I liked the look of, and reupholster it myself.
And then I found THIS on Gumtree: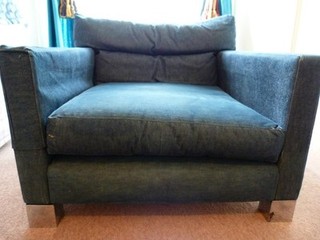 The advert said:
"LARGE ORIGINAL 70'S SQUARE CHAIR, WAS ORIGINALLY IN THE SADDLERS WELLS THEATER LONDON FOYER, BUT I OBTAINED & COVERED IN A STRONG DENIM FABRIC. IT HAS SOLID REAL CHROME FEET & IS A STURDY CHAIR U CAN CURL UP IN."
To be honest, it was partly ALL THE CAPITAL LETTERS that sucked me in. I mean, BOY, was the seller EXCITED ABOUT THIS CHAIR. And after Alice and I spotted a
denim Smeg fridge at the Ideal Home Show, we realised that Cowboy Ranch Chic is apparently the look for Summer 2013...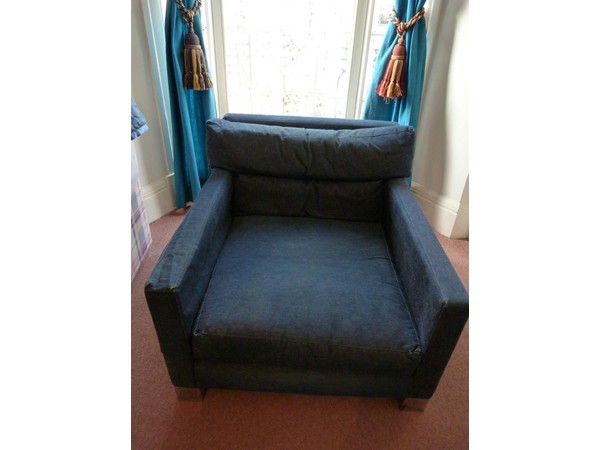 I nicked these photos from the Gumtree ad; so the room is not from my house (of course- the walls are painted white! Eurgh!)
There's only one drawback to my plan: I've never actually upholstered anything before. With the exception of a really old chaise longue a girlfriend and I bought off Gumtree when we first moved to Brighton. And my "upholstering" meant stapling layer upon layer of faux leopard fur onto it to cover all the broken wooden slats we'd never gotten round to fixing. We were sick of warning guests to sit down really carefully so they didn't get splinters in their bum, but it ended up just as uncomfortable as before, with the added bonus that it made it appear as if we'd hunted and skinned a large mangy cat.
However, I'm certainly not one to let little things like "skills" and "experience" get in the way of buying 8m of neon yellow upholstery fabric and borrowing Fran's staple gun.
I haven't actually found a fabric I want to use yet, so I might end up with something covered in narwhals, but I'm off on the hunt today so wish me luck! In the meantime, I'm going to be sitting in my new denim chair, with
pretend spurs stuck on my boots,
trying to lasso things off my bookcase with a skipping rope.